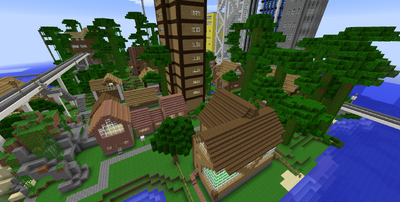 Woodcrest is a neighborhood of
The City of Centura
. It is the second most populous of the neighborhoods and the second neighborhood to be created after the
Hillview Subdivision
. Woodcrest also has the highest income for its citizens over all other parts of the City of Centura.
The Woodcrest Neighborhood was founded shortly thereafter Hillview. It is located just north west of Central Centura. Woodcrest retains most of its high towering jungle trees and shurbbery, hence its name. This was in the plan, as the first homes built in Woodcrest were large vast homes and manors built around and in the wooded areas.
Noteable Features
Edit
Woodcrest is home to a few notable features. One of those being the Centura Community Mine. It was discovered that a large natural cave and abandoned mineshaft from years past lay below, so a commuinity mine was opened for new residents to aquire some elements and other items.