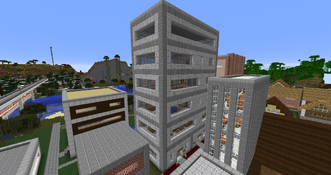 The Commack Professional Tower is a high-rise office building located in The City of Commack in Senja. It is the tallest building in the city, and stands at 30 bl in height making it among the top 20 tallest buildings in Etchnion.
Following Commack's growth, and incorporating into city status, the area of Commack needed a building to house local business offices. The idea for the Commack Professional Tower came into play. The building was simply the NBS of Commack location at 908 Freemont Ave. The building was then expanded further out and then built up. The tower was built 5 more floors up, making it 6 floors in total. Each floor has at least 2 office suites.
The NBS branch location was kept intact, and was re-addressed as STE 101 and has no internal doors to the main lobby. The main lobby is STE 100.
The tower currently has 11 office suites. The top floor is a single large suite.  
NBS Of Commack
Ned's Pub Restaurants, LLC.
Commack Public Libraries Organization
Elwinn Manufacturing Corporation
QuicKitchen Corporation