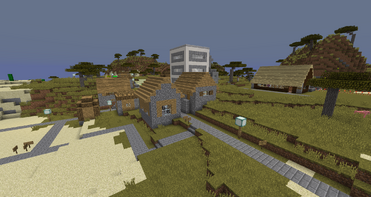 The Village of Larsen is a small farming community in western Senja. The village itself is as old as the City of Vetriver, but was disconnected from the rest of Senja until the government annexed that land. It has been recently connected to the Route 1 freeway via Route 300, as well as a VTA Rail line with a station there.
The actual Village of Larsen was discovered shortly after the founding of Vetriver. This means it is either as old as Vetriver or possibly older. It was discovered by Johnathan Larsen, in which they named the un-named community after.
For several years the community of Larsen was disconnected from the rest of Senja and Etchnion, unless citizens were willing to wonder to the city without direction. Only small guide points exits in western Senja, so getting lost and stranded was a possibility.
However, recently construction began on the Route 1 Expressway, which extended it further west into Senja. Then when it passed near Larsen, Route 300 was then connected to Route 1 via on/off-ramps.
Larsen today is growing with new citizens moving from the city. Larsen has also gotten passenger rail service recently with the completion of the Orange-Line, which connects Larsen to Aberdeen and the rest of the VTA System.
Transportation
Edit
The Route 1 Expressway passes near the village to the north, with Route 300 connecting it and running through the village.
Larsen is also served by passenger rail via the VTA System's Orange-Line.