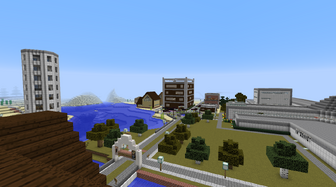 Lake Park is a neighbourhood of the City of Vetriver. It is the second youngest neighbourhood, after Dousman. It is noted for having the Vetriver Grand Mall, and the Historic Tarmpasnski Plantation within its boundaries.
Lake Park was founded when the city expanded further west, for the construction of the Vetriver Grand Mall. The neighbourhood borders Dempster to the east, and splits at the Salzach River. The Salzach River then feeds into Lake Trenton. 
Lake Park is still fairly new, and many features are still being constructed. The main road running though is Goldwinn St, and features a large roundabout at the Vetriver Grand Mall. Recently the neighbourhood has seen some development, such as the expressway construction, and more businesses and homes building built, including a 5-story apartment complex.
Lake Park is also home to the Pyare Square Building, a 7-story round office tower on the shores of Lake Trenton, the tallest building in Vetriver outside of Downtown.
Upgrades
Edit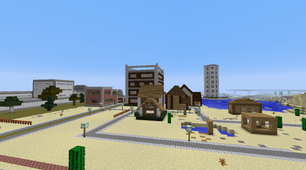 Recently the Lake Park Neighbourhood Association completed the upgrades to the neighbourhood, to beautify it, and attract more residences and businesses. As soon as you enter Lake Park from Goldwinn St, you are greeted with a "Welcome To Beautiful Lake Park" arch sign over the avenue. As well as all roads are lined with polished diorite stone. More upgrades and small touches will be coming soon says the LPNA.
Tarmpanski Plantation
Salzach River
Lake Trenton
VTA Train Station