The Village of Helvalon is a village in Reyida and a suburb of Centura. Helvalon is the second oldest settlement in Etchnion, settled shortly after Centura. Helvalon is mostly built in a cave area, most homes are sheltered from most of the elements.
Helvalon was settled a few months after Centura. It was settled by former inhabitants to Centura that wanted to keep going north. They didn't go far, and found this cave, and decided to start building homes there.
Most of the structures of the village are in this cave. Helvalon also has a small park with a fountain, and Avant Wireless even has a cell tower in the cave for the citizens.
Recently, the City of Centura annexed the small village and Helvalon is now officially a suburb of Centura. Some roads were re-engineered in Helvalon to better suit the growing city. Some lots for construction were also created in Helvalon, and will start soon. This marks the villages first major addition in ages, as well as the first addition outside of the cave.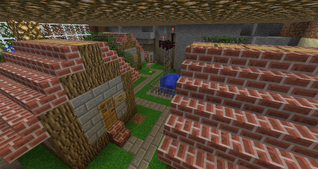 Transportation
Edit
Helvalon has served by rail with an RTA Subway Station.
Route 1 Expressway passes by with an exit to Route 2 going into the village.