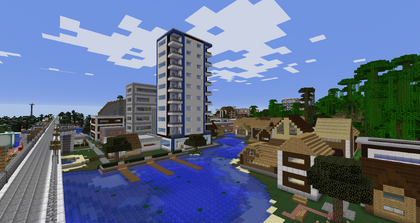 The City of Commack is a city in the Senja District, and a suburb to the City of Vetriver. It is located north-west of the city centre of Vetriver. Commack recently upgraded it's status from a village to a city. The second city in the Senja District.
The area that Commack was founded upon was first settled by the Tarmpanksi family, and was used for farm land. The area has low ground levels beween Kennings Lake and Lake Wilde, so the land is somewhat swampy. Shortly after that Terry Kennings built a home on the land and lived there alone.
Until recently the Kennings home was the only building in the area. Then the Route 1 freeway was built though the area, and the City of Vetriver's expand west with the establishment of the Lake Park neighbourhood meant more roads were built in the area, including Freemont Avenue, which is the main route through Commack.
Shortly after Commacks establishment, the village and the area were annexed by the City of Vetriver, making it part of the Greater Vetriver area.
Commack is growing rapidly, along with the whole Greater Vetriver Area.
Commack is also home to the medical technology company, Bryn Medical. Bryn Medical was a recent addition, moving their headquarters out of a small office in Downtown Vetriver, to a large 5-story tower in Commack. Since Bryn Medical's move the Commack, the village has seen an even larger peak of construction of homes.
Commack is also now home to the headquarters to the VazDrae Corporation (VDC), the zone's largest company.
Commack also has the largest Industrial Park out of any community in Etchnion. Companies in the Industrial Park include; Bryn Medical, Sector Express, Elwinn Manufacturing, Sheyda Corporation, Tetravaal Manufacturing, and VDC Construction.
Recently, Commack upgraded its status from a village to a city making it the second city in Senja and making Senja the first region to have two cities.
Transportation
Edit
Commack is serviced by rail via the VTA System with a station in Central Commack on the blue line. The Yellow Line is currently being constructed, and will run north, creating another station in northern Commack.
Route 1 Expressway also passes through the village, with an exit onto Freemont Ave.
Neighbourhoods
Edit
Central Commack
Hill Valley
Hammersley
Meadow Wood
City View
Crimson Valley