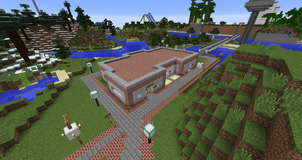 Centura Square is a shopping centre located in the Village of Helvalon. It is located on the site of the former TNT testing grounds. It was built to help with the lack of retail space in the City of Centura area.
The City of Centura was built on a smaller land space, and when the city expanded retail space was not really in demand. Not until the retail boom in the City of Vetriver did Centura see a demand, and by this time there was little to no space available. A few small retail spaces made their way into Centura, but were quickly filled.
Recently, however, The City of Centura annexed The Village of Helvalon as a suburb, and expanded the village. With this expansion, the former Helvalon TNT testing site was razed and demolished, leaving a large open lot. Trenton Properties of Centura purchased the lot and built a 5-unit retail complex, named Centura Square.
Decor & More!
Sector Express
Ned's Pub