The
Bay Plaza
is a small outdoor strip mall in
The City of Vetriver
. It is at the corner of Goldwinn St and Harmony Ave near the
Avas Hotel and Convention Center
and the
Vertical Shops of Vetriver
. It is owned by Gliddon Properties.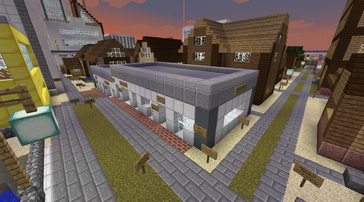 The Bay Plaza was brought up recently as a commercial proposal to fill the several open lots along side Goldwinn St. The Bay Plaza will be the third venture into the shopping boom in the City of Vetriver. First beginning with the Vertical Shops, and then the to be built Vetriver Grand Mall .
The Bay Plaza's location originally raised a few flags as it was right across from the Vertical Shops, however the tenants to be were different than that of the Vertical Shops, and then realized it would make the area a more shopping, dining, and overall commercial feel to the area. Thus the proposal was approved by the city zoning board. The plaza was then, after, shortly built. And three tenants filled the spaces right away, the last retail space was later taken by an NBS branch location. 
The Bay Plaza has four retail spaces, their tenants are;
Avant Wireless Store
QuicKShop
NBS Bank of Senja branch location
768 Goldwinn St
Vetriver, SJA 7AS05