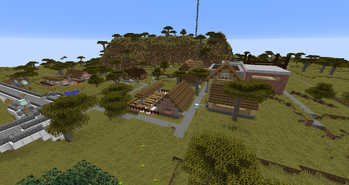 The Village Of Aberdeen is a small community located in western Senja. It is the youngest community in the Zone of Etchnion. It is just due west of the City of Vetriver just off of Route 1 South.
The Village of Aberdeen was founded by Mr. VazDrae of the VazDrae Corporation. After working on the Route 1 South Freeway Extension Project, it came along a large savanna valley. A large grassy field with ample trees and large sweeping hills surrounding it. Mr. VazDrae then created Route 14, and an exit off of the freeway, this route went into the valley and past. He then established the area as "Aberdeen" and built the village's first building. Shortly after the village got approved for official status from the District of Senja.
Shortly after a few more buildings were constructed, including a Sector Express Ship Center.
Many more plans are to come to the area.
Transportation
Edit
Aberdeen is served by rail via the VTA System, with one train station connecting it to Vetriver.
The Route 1 Expressway passes by with an exit onto Route 14 into the village.